Two Steps to Caring for Outdoor Stone & Concrete
Welcome to August, and the fast-approaching end of summer. 'Tis the season to refresh and reseal your exterior products!
With the Dry Treat & Hanafinn products now available at Stone Source, you can freshen up your exterior and add curb appeal with two easy steps:
1. Give that stone or concrete a good, deep clean
Deep Clean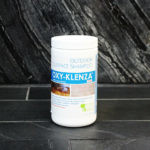 Oxy-Klenza™ is a powerful, triple-action oxygen based-cleaner and stain remover for natural stone and other porous surfaces. Recently featured on the Marilyn Dennis show, this cleaner is an excellent outdoor surface shampoo suitable for stone, tile, grout, paving, brick and other hard surfaces. Give your outdoor surface a deep clean with this safe-to-use, biodegradable cleaner prior to sealing.
Oil-based stains
Oops! There's an oil spill. Now what? Try the Rejuvenata Active™ enzyme cleaner. It contains 3 types of natural active enzymes that quickly break down oils, grime, bacteriae and mold. Suitable for all natural stone, grout, concrete and brick, in both indoor and outdoor settings.
Rust & Efflorescence removal
Sometimes your outdoor surface is more beat up than you care to admit. If you have rust or efflorescence form on pavers or concrete, then Eff-Erayza™ is a good option. Please call in to discuss with our sales staff to see if this product is right for you, as it is not suitable for acid-sensitive stone surfaces.
Self-cleaning?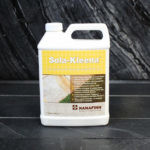 Is it possible? With Sola-Kleena™ it is! Once your stone is clean and sealed, put a coat of Sola-Kleena™ on top. This cleaner utilizes the sun's rays to break down dirt, algae, mold and mildew and keeps working for up to one year!
2. Seal it up!
If you haven't sealed your exterior stone in the last 5 years, it's time.
With the current laws governing VOCs, we can say good-bye to stinky, toxic sealers of the past. Much better products have made their way to center-stage that offer superior protection.
Since we are talking outdoors, take a look at Concrete-Finisha™, this month's new arrival to our Dry Treat/Hanafinn line of sealers. This product has large enough molecules to properly seal porous outdoor material, while still boasting the super-impregnating technology (which gives your surface protection against efflorescence and staining).
Application is simple! Two thin coats with 30 minutes in between is all you need to protect your stone for years to come. The enhancing element of the sealer will bring back the true colour of the stone and give it a wet look.
If you have any questions regarding cleaning and maintenance please stop by Stone Source where one of our experienced sales staff would be more than happy to answer any questions.
Related