Slice of Style – 3 Benefits to Porcelain Wood Imitation Tile
Wood imitation porcelain tile is becoming increasingly popular. With this month's arrival of the Cypress collection, there is now a total of four different collections available to choose from, a total of 15 colours! Let's take a look at three of the benefits that porcelain wood imitation can provide:
1. You can put in your shower or bathroom.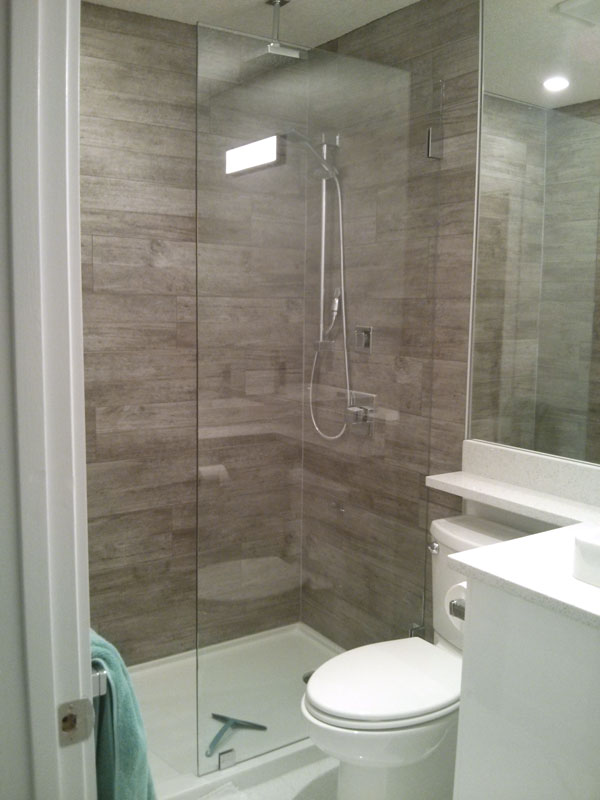 Love the look of hardwood? Enjoy walls clad in rustic wooden tones? Just imagine being able to have that in a bathroom! The low absorbency of porcelain allows your tile to be installed in your bathroom: floors, walls, backsplashes, you name it. With the authentic look that our porcelain wood imitation tiles have to offer, the look of real wood in a bathroom is available to you.
2. You can put it outside.
Porcelain is tough and durable. It can withstand Alberta's rough freeze-thaw cycles. Therefore, it is suitable for the outdoors! Do you have a room in your house that butts up against an outdoor patio? Wouldn't it be great to put the same flooring both inside and out? The consistency of using the same floor can help to bring the outdoors in (or the indoors out, whichever you prefer).
3. You can get it wet in the kitchen.
Hardwood in a kitchen is always debated. It looks nice, and putting the same flooring throughout an open concept area can make the house feel cohesive; however, complaints of warping hardwood due to sink leaks, dishwashers overflowing and the plethora of other mishaps that are part and parcel of home ownership are not uncommon. Why not put wood imitation tiles throughout the open concept area? This is a great option for those who have pets, as the scratching of a shiny hardwood is another common complaint. Porcelain tile is tough and rugged, thus allowing your pets to run around with unclipped toenails and still keep your flooring as good as new!
"But, won't the tile be cold?" you say. Why not take the chill off with in-floor heating? Problem solved!
Considering wood imitation for your next renovation? Come in store and one of our skilled sales staff will be happy to provide you with samples.
Related